Welcome to the special page of Tiger, where everything is all about tigers for kids. Get ready for an adventure ride to the world of Tigers.
Fast Facts About Tigers
1. Scientific Classification of Tigers
Scientific Name : Panthera Tigris
Kingdom: Animalia
Phylum: Chordata
Sub-phylum: Vertebrata
Class: Mammalia
Subclass: Eutheria
Order: Carnivora
Family: Felidae
Subfamily: Panthernae
Genus: Panthera
Related Posts
2. Different Sub-species of Tigers
The tiger belongs to the Species "tigris" and has the following subspecies:
Malayan tiger (Panthera tigris jacksoni)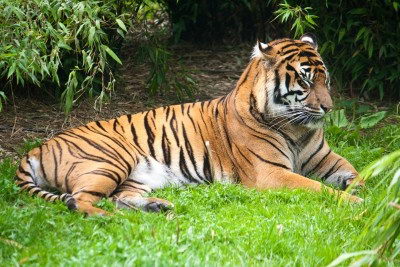 3. Extinct Sub-species of Tiger
Bali tiger (Panthera tigris balica)
Caspian tiger (Panthera tigris virgata)
Javan tiger (Panthera tigris sondaica)
4. Physical Features of Tigers
Size: 9 to 11 feet (2.8 to 3.3 meters)
Weight: 589 to 660 pounds ( 267 to 300 kilograms)
Color: Orange, Black and White
Skin: Fur
5. What do Tigers Eat? Tigers Diet – Tigers Main Prey
Tigers are meat eaters (Carnivore). Their favorite diet includes:
6. Where do Tigers live? Tigers Habitat
Tigers live in dense tropical forests situated in:
Related Posts:
7. How long do Tigers live? Tiger's Lifespan
Tiger's average lifespan ranges from 18 to 25 years.
8. How Fast can Tiger run? Tigers Top Speed
Tiger's can attain the maximum speed of 60 miles per hour (96 kilometers per hour)
9. Tigers Behavior – Are tigers solitary or social animals?
Tigers are solitary animals i.e. they prefer to live alone in their own territory.
10. Are Tigers Endangered? – Tigers Conservation Status
Among the six sub-species of tigers, four are declared endangered and two are critically endangered by the International Union for Conservation of Nature.
  Critically Endangered
Sumatran Tiger (Panthera tigris sumatrae)
South China Tiger (Panthera tigris amoyensis)
Endangered
Indo-Chinese Tiger (Panthera tigris corbetti)
Amur Tiger (Panthera tigris altaica)
Bengal Tiger (Panthera Tigris Tigris)
Malayan tiger (Panthera tigris jacksoni)
Related Posts:
Find out more about tigers by reading the following articles related to Tigers.