The CBD industry continues to grow, with manufacturers offering various CBD products for humans. Brands have also ventured into making CBD formulations such as CBD dog treats and oil. Your furry friend can benefit from CBD the same way you do, and the market has various CBD products for pets. Between CBD treats for dogs and oil, which one is better for your furbaby? Below is a guide on the two products to help you choose what your furbaby needs.
What Is CBD Oil for Dogs?
CBD stands for cannabidiol, a hemp extract that has been shown to have wellness properties. CBD oil for dogs is a liquid that contains CBD, a carrier oil, and other dog-friendly ingredients. It comes in bottles with droppers for easy, accurate measuring of CBD amounts. Many manufacturers are offering CBD oil for dogs to consider using, and they come in different potencies.  
What Are CBD Treats for Dogs?
CBD dog treats are edibles that contain cannabidiol and are made specifically for your furry friend. Besides CBD, they may also have components like flaxseed, salmon, L-Theanine, and flavors. Brands pack CBD treats for dogs in pouches, each containing a pre-measured amount of CBD.  
CBD Dog Treats vs. Oil
Both CBD treats and oil for dogs have upsides. Choosing between the two depends on your preference as a pet owner.  
What Does CBD Oil Do for Dogs?
CBD oil may alleviate pain, anxiety, and inflammation in pets. However, more research is needed into these wellness benefits. Dogs have an endocannabinoid system similar to what humans have. The system regulates functions such as pain, mood, sleep, appetite, and immunity responses.
CBD interacts with endocannabinoid receptors in your pet's body to relieve discomfort. CBD oil provides quick relief for pets. Researchers need to do more regarding CBD use for pets to provide solid evidence on whether CBD can help your four-legged friend.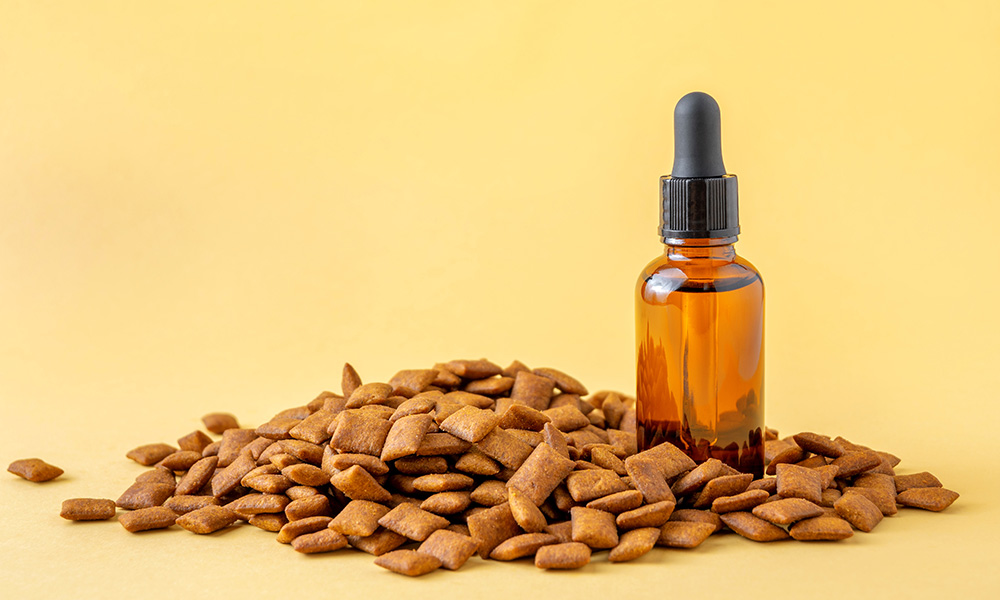 What Do CBD Treats Do for Dogs?
CBD dog treats provide the same properties as CBD oil, as the main component is cannabidiol. The edibles come in delicious flavors for dogs. They may relieve anxiety and pain. Besides this, some dog treats come with other features too. Such as top-rated brands like FAB CBD offer peanut-butter-flavored CBD Treats for Dogs that give your furry friend joint mobility and improve their sleep quality and calmness. Nonetheless, CBD treats have a lower bioavailability and take longer to work than CBD oil since they go through the gut. However, their effects last longer in your dog's system to provide relief.
Possible Risks of CBD Treats vs. Oil
High-quality CBD treats and oil for dogs are safe. They contain dog-friendly ingredients to enhance wellness. There is limited research on CBD for dogs, and vets are not allowed to prescribe CBD use for pets in the U.S. However, CBD works in dogs through the endocannabinoid system like the one in humans. It also interacts with some medications humans use, like blood thinners. Dogs suffer from some diseases similar to humans, such as chronic pain, arthritis, and anxiety. The prudent thing to do here is to consult a veterinarian before giving your furry friend CBD treats or oil.
Things to Consider Before Buying CBD Treats vs Oil for dogs
The CBD market is yet to be regulated, and buying low-quality products is possible. There are factors to keep in mind when buying CBD dog treats and oil to ensure you settle for high-quality formulations.
Consult Veterans 
Before you even buy CBD for your pet, see a vet first. Though vets cannot prescribe CBD for dogs, some states allow them to discuss the cannabinoid with pet owners. For example, under New York CBD law, pet owners can use CBD oil for their pets as long as it contains 0.3% THC or less. A vet with expertise in CBD will establish if your canine can take CBD treats. The professional will also guide you on the dosage to use to protect your dog.
Pick Top-rated Brands
Always go for top-rated brands when looking for CBD dog treats and oil. The best manufacturers use high-quality production methods and ingredients to make safe CBD products for dogs. Customers are also happy with their products, and you can tell from the many online reviews.
Third-party Lab Test
Buy your dog CBD treats and oil that undergo third-party testing at independent laboratories. Lab technicians examine the products for cannabinoids and impurities to ensure your pet's safety. They check the cannabinoid profile of the product and whether it has contaminants like heavy metals and pesticides.
Read Types, Strength Forms, and Instruction
Leading manufacturers make isolate and broad-spectrum CBD treats and oil for dogs. The two CBD types are THC-free. Each CBD dog treat can have 3mg of CBD or more, while CBD oil for dogs comes in 100-1000mg potencies. The best brands also provide instructions on using CBD for pets to ensure they work accordingly.
How to Use CBD Treats and CBD Oil for Dogs
Give your dog CBD treats like regular treats. These edibles make it easy to give your dog CBD. You do not have to measure servings, which fosters convenience. Give your pet one or two treats per serving, depending on its weight. Check the product label for dosage guidelines. 
CBD oil for dogs can be administered in the mouth or added to your dog's food. Like treats, the amount of CBD oil you give your pet depends on its size. The droppers included on CBD oil bottles should help you measure and adjust servings.
FAQs
CBD is safe for dogs. It works with the endocannabinoid system for wellness. Ensure you consult a vet before using CBD for dogs.
How many CBD treats for dogs can I use?
The number of treats to give your dog depends on its weight. Brands offer treats with different amounts of CBD. Heavier dogs need more CBD than smaller ones.
Final Thoughts
CBD treats and oil for dogs may support wellness, although more research is necessary. They come in different potencies, and CBD is safe for dogs. Ensure you buy your pet the best CBD products with high-quality ingredients. Premium CBD for dogs is also third-party tested, and the manufacturer includes instructions on labels on how to use the product properly. Remember to consult a vet before giving your four-legged companion any CBD product.